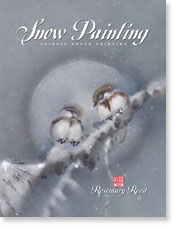 Snow Painting
Chinese Brush Painting
SNOW PAINTING was created specifically for the beginning to advanced artist who has an interest in, or has been trained in, the traditional Western style of watercolor painting. If your favorite subjects include mountains, lakes, rivers, waterfalls, birds, trees, and snow-covered landscapes, this book will help you to incorporate Chinese brush effects and Oriental grace and beauty into your paintings. Snow Painting is not intended to be a comprehensive treatise on Chinese painting. However, the step-by-step lessons and demonstrations will give you the basics needed to get started in developing your creativity.
"In the how-to portion of the book, each piece of information is accompanied by simple, clear instruction and brilliantly detailed photographs-almost like having the teacher alongside you as a personal instructor. The layout is perfect, with no confusion, letting each part play its role to perfection. The manner in which the images in the gallery section are presented is beautiful. Here is a fine example of the inspired approach to layout." --Benjamin Franklin Awards Judge, 2006 BEA book competition in Washington DC.

"...a gorgeous presentation providing artists with all the fundamentals needed to produce Chinese-style brush paintings. From a survey of inks, stones, and brushes to a treatise on basic color, paper, observing and understanding how snow is depicted in art, and a step-by-step approach to subject definition, materials, and effects, SNOW PAINTING is packed with detail ranging from bird observation to stylistic guidelines. Simply lovely and well detailed." --Midwest Book Reviews
ROSEMARY REED has spent forty-five years honing her visual and creative skills. Rosemary's pursuit of her passion for Nature's bountiful display of beauty and variety, has culminated in this masterful volume.