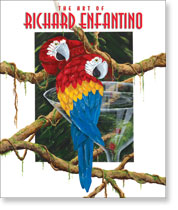 The Art of Richard Enfantino

Born in San Jose, Richard now resides in Cupertino and Key West. His business career includes owning the largest supplier of Triumph and British car parts in the US, a salsa and tortilla chips company, and the Pacific Golf Ball company. Throughout his life he has been active in art, design, and music. He designed graphics for Carl Perkins, Susi Beatty, Tommy Barnes, Doug Sanders, Outlaw Golf, The TV Channel, The Academy Awards of Country Music Foundation, and many more. He has appeared the Dick Clark Show, The Love Boat, and Bloopers & Practical Jokes.
Chronicles the life and career of one of the most creative and vibrant artists known. His artwork is colorful and whimsical with a definite "painterly" style. This edition includes an illustrated biography of his prolific life and a section exhibiting a variety of galleries: the Cocktail series, the Fat Chef series, the Tropical Bird series, the Cocktails with the Masters series, the Tropical Fish series, the Sea Mammal series, and the Paradise series. Beautifully designed and printed in full-color, it contains over 90 paintings, 50 sketches, and 100 photographs of his friends and collectors, including, Alan Jackson, George Jones, Tanya Tucker, Michael Godard, Marie Osmond, Toby Keith, Dwight Yoakam, Frankie Avalon, the Alabama band, Robert Duvall, and Dick Clark, among others. Oversized, coffee-table (10" x 12") full color with index.