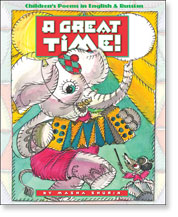 A Great Time
Children's Poetry in Russian & English
A Great Time is an enchanting, poetic foray into a world of imagination in which children are taught timeless truths by bugs, animals, plants, and the sun. These fun-filled, character-building messages spark hope and joy in children, while helping them better understand how precious life is and the importance of friendships, showing courtesy, and sharing with others. The illustrations and poetry richly capture the heart of these simple lessons that are so important to developing in a child a deep appreciation and respect for nature and for each other.

Storytelling, circus, theater, and poetry were important cultural pillars of the Russian society into which Masha Shurin was born. Having lived and worked under repressive Soviet control for decades, she knows how influential these media can be in helping people to believe in, and hope for, a better world.

A Great Time is the first of a four-book series by Shurin.
Masha Shurin was born in Belarus, a republic of Russia, in 1949. She graduated from Minsk Institute of Technology in 1975, but did not get her diploma because she was poised to immigrate to the US and was labeled as an enemy of the people. Masha worked in Russian circus from 1971 to 1980. She immigrated to America in 1980, and makes her home in San Francisco, California.

Valentin Ginukov, artist and journalist, was borne in 1929, in Russia. He graduated from the Russian Institute in 1961. Valentin worked for numerous Russian magazines, newspapers, and publishing houses. His cartoons, posters, and illustrations have appeared in international exhibits. He immigrated to America in 1993, and makes his home in San Francisco, California.