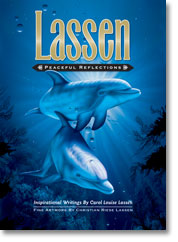 Lassen
Peaceful Reflections
Her Wisdom is born from an unconditional love of life, love of family and love of God. She has traveled the road that God has chosen for her and during her journey has touched the hearts and souls of many a fellow traveler. Life is, after all, about the journey but as Carol Lassen knows, Life is also the most precious gift of all.

Through the power of the written word and the mastery of an artists brush, Carol and master artist and son Christian Lassen present to you Peaceful Reflections. It is a book that testifies to their deep spiritual commitment between man and God and is drawn from their many experiences and lessons in life. The paintings that accompany each writing are visual reinforcements of the beauty of mother earth and her creatures and the depth of God's love for all.

In Peaceful Reflections, Carol and Christian graciously open their hearts and souls to you and share their most deeply spiritual thoughts in ink and oil. This deeply moving book of thought and substance will touch your heart and inspire you.
While working with the Lassen family on Christian's latest art book, it became evident to Enfantino Publishing, that another book was aching to be written and sent to the presses. It is a book born of pen and paintbrush.

Carol, a deeply spiritual woman, wanted to share her thoughts on Life and God and our need to coexist with the forces of nature and all of God's creatures.Christian Lassen being a world renowned artist was able to reflect these thoughts with his works on canvas. Enfantino Publishing was able to bring to life Peaceful Reflections, a book as beautiful to read as is it to look at.