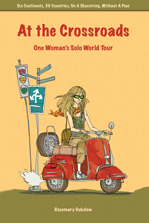 At The Crossroads
One Woman's Solo World Tour
In 2010, a 53-year-old career librarian quit her job and left home. She traveled around the world spontaneously, using directions and advice from her readers on her blog as she maneuvered her way from country to country.

She bravely traveled alone for ten months, with one suitcase and a little money, mostly by land and sea, through 30 countries on six continents, met people along the way, and got into a few predicaments. Her journey highlights some of the usual, touristy points of interest and, more often than not, the exotic, out-of-the-way places she had never heard of.

At the Crossroads is a delightful documentary that will inspire and entertain any woman who has dreamed of breaking free from her routine.

At the Crossroads is the journal of how Rosemary Dukelow found the ultimate cure for her mid-life crisis. The story is light-hearted, funny, inspiring, and encouraging.