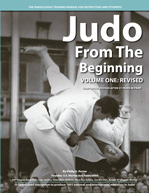 Judo From The Beginning
Volume One - Revised
Finally, after 37 years in print, "Judo From The Beginning" has been fully revised. The new edition of this magnificent text on Judo is acknowledged as the standard for Judo books. Out of print for many years, O-Sensei Porter has been repeatedly asked to republish this classic, and, just prior to his death in 2011, he finished the revision.

What makes "Judo From The Beginning" so unusual? First, it is the only Judo book ever written that contains nearly all actual fighting action photos of Judo. Most Judo and other martial arts books consist of posed photos of unskilled players. This unique text, on the other hand, shows only actual action shots, most of them taken from national, world, and Olympic fights in Judo. There is absolutely no other book of this quality available.

Second, the book is written by one of the few top coaches who has a proven record of making champions. O-Sensei has documented in Chapter 15 the production of over 1000 national and international medalists in Judo over 31 years. No other coach has even approached this incredible record.

Third, O-Sensei Porter has written special new chapters on philosophy, strategy, and tactics, American Judo history, how to be promoted fairly, and the documentation of his outstanding coaching record of 1001 champions.

This new edition hosts fifteen chapters with over forty detailed, fighting drawings and over 131 photographs. Easy to learn (and teach) instructions on rear, forward, and body throws and their defenses, lay out the basic methods. Holds, chokes, armlocks, and grips, along with their escapes and counter moves, are extensively covered, as well. The sections on strategy, tactics, and teaching will take the student and teacher inside the mind of how O-Sensei approached preparing for actual, tournament-level, championship fights.

"The Father of American Judo"

O-Sensei Porter's competitive career spanned over 50 years. He was U.S. Air Force Champion in 1957, won a bronze medal in the U.S. Senior Nationals in 1963, won gold medals in four U.S. National Masters Championships, and won two gold and a silver medal in the 1998 World Master Athlete Games. Phil was teaching, leading, filming, and writing about Judo up to three weeks before his death in 2011.

He founded the United States Judo Association and later built the National Judo Institute in Colorado. He also founded the United States Martial Arts Association in 1998. He held 10th degree black belt in Judo, Jujitsu, Taiho Jitsu, Budo Tai, Jutsu, Berkoku Miz Ryu Jujitsu, Jun Kin Shin, and Karate, and 9th degree in WuShu.

He served in many leadership positions: Chairman of the AAU Judo Committee; Chairman of the U.S. Olympic Judo Committee; Secretary General of the Pan American Judo Union; President of U.S. Martial Arts Association; President and Head Coach, National Judo Institute and National Judo Team; among others. He personally coached more than 1,000 national and international medalists in Judo.

He produced books, magazine articles, videos and DVDs. (His videos alone sold over 130,000 copies.) He created and was the editor of, "American Judo".

Major Philip S. Porter graduated from the United States Military Academy at West Point in 1948, and served in the U.S. Army/Air Force for 25 years. He received a full military memorial service at West Point on August 26, 2011.