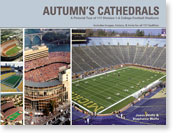 Autumn's Cathedrals
A Pictorial Tour of College Football Stadiums
Never before have college football fans had the opportunity to own such a unique coffee-table resource. This hard-bound edition is filled with over 150 vivid color photos and vital historical facts of all 117 Division 1-A college football stadiums across the land. They're all here-from the legendary Notre Dame Stadium to the mammoth football venues of Michigan, Penn State, Tennessee, and Ohio State. Anyone shopping for the college football fan will appreciate what a great and enduring gift Autumn's Cathedrals will make.

College football authority, Coach Vince Dooley, Athletic Director for the University of Georgia, gives Autumn's Cathedrals two thumbs up, "I am proud to endorse this much needed compilation. The work will be a valuable coffee table reference for many football fans."
The Most Comprehensive Illustrated Authority
Autumn's Cathedrals is the most up-to-date resource available on the 117 stadiums of Division 1-A college football. Beautifully illustrated and brilliantly documented, it brings to the reader the grandeur of these larger-than-life structures and a command of the history, facts, and trivia surrounding each venue. Any fan of college football will return again and again to this treasure-house of information and enjoyment.