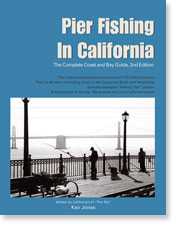 Pier Fishing in California
The Complete Coast & Bay Guide, 2nd Edition
The most comprehensive, illustrated authority on 112 California piers, including those in the Carquinez Strait and west Delta. Includes an illustrated encyclopedia of the top 100 species that visit California's piers. Also details bait, lures, tackle, cleaning, cooking, regulations, insider's tips, history, trivia, and much more. Special chapter on pier "culture" with a collection of "pier-rats" postings from the PFIC web site.

The ultimate pier fishing resource for Pacific Coast pier anglers is Ken Jones' remarkable book Pier Fishing in California: The Complete Coast and Bay Guide, Second Edition. Over 350 new photos and illustrations have been added, including detailed, species-specific illustrations of fish-cleaning, rigging illustrations, and maps. An "encyclopedia" of the 100 most commonly caught species is also completely illustrated. The sheer amount of research and experience that's gone into this book is mind-boggling. Even if you're not a dedicated pier angler, it's a fascinating read and an admirable accomplishment.
-Zack Thomas, Pacific Coast Sportfishing magazine
Ken Jones (California's official Pier Rat) is an expert pier fisherman, a high school teacher, a small business owner, and a successful, previously-published author. He received his undergraduate degree from the University of San Francisco and a masters degree from Dominican College. The author has fished California's piers more than forty years from the Oregon border to the Mexican border. The more than 1,200 trips, on more than 125 piers, have resulted in more than 15,000 fish.
He is also the current President of United Pier and Shore Anglers of California.
"This book is positively biblical in scope. If pier fishing is a religion and perhaps it is, Ken Jones is certainly its prophet."
-Milton Love, Marine Biologist, University of California Marine Science Institute, Santa Barbara, author of Probably More Than You Want To Know About The Fishes Of The Pacific Coast: A Humorous Guide To Pacific Fishes, and director of "The Love Lab."

"Ken Jones, the authority on pier fishing in California, has done it again. This revised edition includes more piers, adds details about fishing and the fascinating history of California piers all the way back to the 1800s."
-Ray Rychnovshy, outdoor writer and author of numerous fishing books including California Guide: Great Saltwater Fishing, and San Francisco Bay Area Fishing Guide.

"Every angler in California ought to have this book! In addition to telling you the when, where, how, and even the why, of pier fishing, the book is just plain fun reading."
-Tim Turner, Editor in Chief, Rabid Angler Magazine

"Pier Fishing in California will teach you everything you want to know about fishing on piers and the piers themselves. An amazing amount of time and research went into this book. Ken Jones' passion for pier fishing comes through loud and clear. In addition to all of the facts, the book is weaved with clever and funny anecdotes."
-Shawn Arnold, Publisher, Fish Taco Chronicles

Pier Fishing in California has been nominated for "Book of the Year" Award by the Outdoor Writer's Association of California, in February of 2005. The final award's ceremony and announcements will take place in June of 2005.