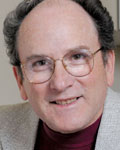 Robert Brekke
CEO and Director of Publishers Design Group, Inc.
Robert oversees operations for the three publishing divisions: PDG, White Stag Press, and The Salt Works. His areas of expertise are in product development and marketing, with a career spanning over 30 years. He has a background in manufacturing, retail, publishing, and owned a design and marketing consulting firm that specialized in assisting start-up businesses.

Today, at Publishers Design Group, Inc., his primary involvement includes manuscript and project development and the marketing of books and products to the North American and international markets. He also coordinates all projects for custom publishing programs.